This is sad, but unfortunately Microsoft Learning has announced today that they are retiring the Microsoft 365 Certified: Teamwork Administrator Associate certification on August 31st, 2020.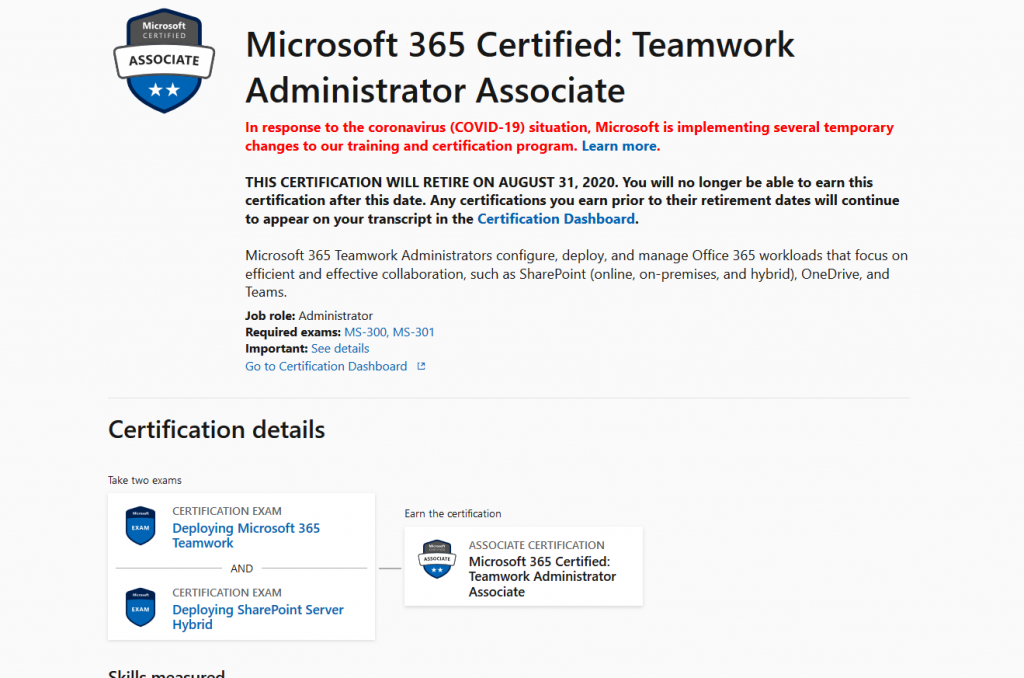 As a reminder, the Microsoft 365 Teamwork Administrator certification was testing on the following topics, in two different exams, the MS-300 and MS-301:
Configure and manage SharePoint Online
Configure and manage OneDrive for Business
Configure and manage Teams
Configure and manage workload integrations
Configure and manage SharePoint On-Premises
Configure and manage hybrid scenarios
Migrate to SharePoint Online
What happens if you passed this certification, or if you were studying for it? Even if a certification that you've earned has been retired, it remains on your transcript and can be shared as usual. A retired certification remains in the active section of your transcript for at least two years after its retirement. Therefore, if you find that those topics are important and you want to showcase your skills in those topics, you have until August 31st, 2020 to pass the MS-300 and MS-301 to achieve the certification! You can view the official announcement here!
Microsoft Learning's answer to this retirement is that everyone should take the MS-700 exam to become a Microsoft 365 Certified: Teams Administrator Associate.
I am personally disappointed in this announcement for multiple reasons, but mainly because I know that there are still a lot of admins out there who manage SharePoint / OneDrive / Stream/ Yammer / etc and would love to get certified. The MS-300 covered the "collaboration" part of Microsoft Teams , and nothing about calling, managing voice , and auto attendants in Teams. While the MS-700 is great for Skype for Business admins transitioning to Teams, I do believe the "Microsoft 365 Teamwork" admin was a real role out there. Now, I wouldn't have been surprised to see the MS-301 get retired, as Microsoft, and therefore Microsoft Learning not investing a lot in on-premises anymore. We don't have any Windows Server 2019 or SQL Server 2019 exams anymore, so I wouldn't have been surprised to see SharePoint 2019 go, but to see SharePoint Online, OneDrive for Business, Stream, Yammer, etc , certification content was completely a shock.
Thankful: http://vladtalkstech.com